The company Euroser is specialized in the trade and brokerage of fresh and frozen meat products bone-in or boneless.
The company exports near of 70% of its products to the Europe Area: Northern Europe, mainly Germany, United-Kingdom, Benelux, Spain, and Eastern Europe and its retail network extends to Russia, Northern America, Africa and Asia thanks to its partnerships' agreements (sourcing) with Grand-Exporters of frozen meats worldwide (outside Europe). Since 2010, the company has set the use of a logistics platform in Kortrijk-Heule in Belgium in order to improve its delivery service.
Euroser is specialized in the marketing of pork and sow, beef and veal meat and is since 2006 pioneer of meat trading coming from organic farming (BIO). In smaller volumes, Euroser markets other meats to its foreign customers: poultry, game, sheep as well as manufactured products like canned meat for the export and pet food.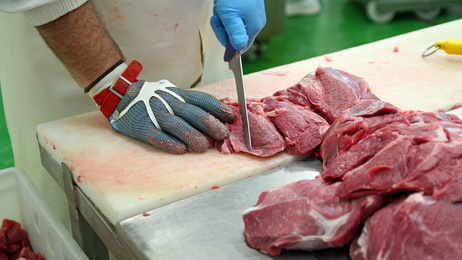 Since 1997, the company has specialized itself in precise domains :
(BOEF) FAMILY : Specialized Retail of muscles ; Fresh vacuumed beef
Euroser offers fresh boneless Beef cuts like beef topsides, beef silversides, beef knuckles from French and European slaughterhouses and cutting plants. Its first market is Germany with the supply to its wholesaler partners. Euroser also markets frozen beef pieces to industrial customers.
(CARC) Family : Marketing of carcasses ; befe forequarters, cow compensated
With the support of the biggest French and European slaughterhouses, Euroser is a specialist in supplying fresh beef carcasses to industrial producers of minced meat.
(PORC) Family : trade of frozen process meat ; frozen Prok and Sow
With a wealth of experience in the Delis and canned meat manufacturing, Euroser buys, stocks and resells frozen boneless Pork meat for the preparation of the production of Delis to its European industrial partners, in particular French and German. The European slaughterhouses and cutting plants – recognized by European Veterinary Services offer us the supply of frozen meat products like Pork jowls or shoulders that we market to our manufacturing partners.
Retail of frozen Piglets.
An agreement with a French piglet's slaughterhouse has allowed us in 2007 to add the retail of frozen piglets to our range meant for our German customers.
(BOEC) Family : Trade of frozen processed meat ; frozen beef
The French and European slaughterhouses and cutting plants rely on on our retail network for the balance of their stocks or the promotion of their products. On the French market and on a given period, the demand in particular products like Beef tongues or livers for example can be poor, depriving the slaughterhouses of outlets on their domestic markets. Euroser offers solutions on the markets that these slaughterhouses can't fill for lack of a regular supply.
Export of Beef offal and byproducts through our (Grand-) Exporters partners.
(VOL) Family : Frozen Poultry
As for the Beef or for the Pork, Euroser markets frozen poultry meat to the Delis and canned meat Industry to its European, in particular French and German, industrial partners or to the Grand-Export.
(VEAU) Family : Marketing of fresh and frozen veal meat ; frozen veal and carcasses
Parallel to the export of frozen veal meat, primarily intended for the production of Kebab, Euroser does market carcasses veal crops and offal to wholesaler and industrial customers.
(BIO) Family : Organic Meat ; BIO
Since 2006, Euroser offers a range of primary cuts from Organic Farming, intended for the production of Organic Delis and canned meat. This little part represents less than 1% of the sales volume of the company but is steadily increasing. http://bio.euroser.fr
(CAPR) Family : Marketing of Goat Carcasses and Offal
Beginning 2011, Euroser has extended its marketed products range to Goat Carcasses and Offal.
A slaughter volume of about 150 To per year has been set up with a French Slaughterhouse.
(OVIN) Family : Marketing of Mutton Carcasses, Offal and meats
Euroser offers boneless Mutton cuts to industrial or wholesaler customers in Europe.